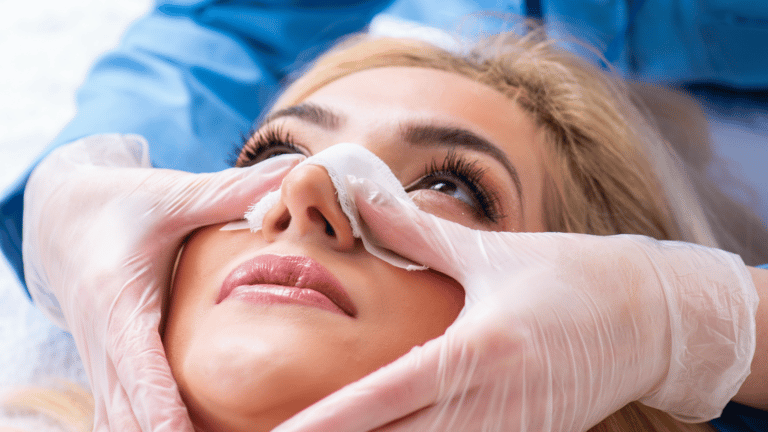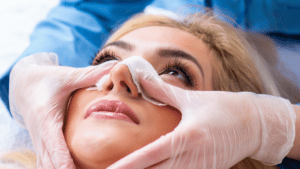 Republished from Medical News Daily
Rhinoplasty is a type of plastic surgery that involves reconstructing the nose to change its shape. A person can opt for a rhinoplasty to improve breathing function or for cosmetic purposes. 
Plastic surgeons or an otolaryngologist, which is an ear, nose, and throat surgeon, can perform rhinoplasty procedures if they have the necessary training and experience. 
This article provides an overview of rhinoplasty, including the cost, procedure, and tips for choosing a plastic surgeon. It also covers what to expect during and after surgery. 
What is it?
Rhinoplasty is a surgical procedure to alter the appearance of the nose. People may also refer to rhinoplasty as a "nose job." A person may undergo rhinoplasty for cosmetic or medical reasons. Rhinoplasty can fix structural problems with the nose that make breathing more difficult. It is one of the most common types of cosmetic surgery worldwide. The American Society of Plastic Surgeons (ASPS) notes that in 2020, surgeons performed 352,555 rhinoplasty procedures in the United States. 
Why do people get one? 
People may undergo rhinoplasty procedures to change the physical appearance of their nose and achieve a specific facial profile. As a result, rhinoplasty can be a form of cosmetic surgery. 
Rhinoplasty can alter: 
the side of the nose in relation to the face

 

the width of the nose

 

visible depressions or bumps on the bridge of the nose

 

the tip of the nose

 

the shape and width of the nostrils

the symmetry of the nasal passages

 
At other times, some medical conditions may require rhinoplasty. Medical reasons include: 
Nasal abnormalities:

A surgeon

can treat

 a cleft lip and palate using rhinoplasty.

 

Nasal obstruction:

Structural abnormalities in the nose

can cause

obstruction to the nasal passages. Although a doctor may prefer

septoplasty

as the surgical method, a surgeon may perform septoplasty

alongside

rhinoplasty.

 

Deviated septum:

A deviated septum is one of the

most common

causes of breathing difficulties related to the structure of the nose. Rhinoplasty can help to produce better alignment of the nasal structure, which can make breathing easier.

Trauma or injury to the nose:

Rhinoplasty can help to reshape the nose after an injury.

 

Complications from a failed primary rhinoplasty:

A person can undergo rhinoplasty to

correct

a previous rhinoplasty.

 
Who can get one?
Before undergoing rhinoplasty, a plastic surgeon will evaluate a person to see if they are suitable for rhinoplasty. They will ask about a person's medical history and perform a nasal analysis. 
The ASPS states that a person may be a good candidate for rhinoplasty if: 
they do not smoke

 

their face has finished growing

 

they are physically healthy

 

they have realistic goals about their desired facial profile

 
Research from 2016 suggests that children still undergoing facial growth may be eligible for rhinoplasty if they have an injury or birth disability that affects the structure or function of their nose. 
Risks to consider
Rhinoplasty is one of the most complex procedures. However, research indicates that rhinoplasty is a safe procedure and significant complications are rare. If a person considers rhinoplasty, they should speak with a licensed surgeon first. 
According to the British Association of Aesthetic Plastic Surgeons (BAAPS), possible side effects of rhinoplasty include: 
loss of sensation or numbness

 

discoloration of the skin on the nose

infection

 

difficulty breathing

 

altered sense of smell

 

swelling

 

pain

 

allergic reaction to anesthetic

 

damage to nerves, blood vessels, or tear ducts

 

septal perforation, which is a hole in the septum

 

unsatisfactory result

 
To learn more about the procedure, watch the following video by Dr. Amit Kochhar explaining procedure and aftercare. (Click here to see YouTube Video)