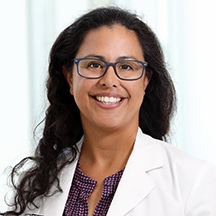 Certified Physician Assistant
She completed her Bachelor of Arts of degree in Design at the University of California, Los Angeles. During her time at UCLA and after graduation she worked on an ambulance as an EMT. As her passion was caring for people, she switched careers and attended the University of Southern California Keck School of Medicine, where she received a Masters degree in Physician Assistant Practice. As part of her Masters degree, she had Clinical Clerkships in Internal Medicine, Primary Care Medicine, Emergency Medicine, Orthopedics, Women's Health, General Surgery, and Pediatrics.
Career Highlights
Olivia began her career with Chester F. Griffiths MD at Pacific Head and Neck, a multi-specialty Ear, Nose, and Throat and Facial Plastic Surgery practice for 7 years.  She was involved in all aspects of Ear, Nose and Throat patient care including preoperative to postoperative care and cosmetic procedures.
In 2014, Olivia joined the USC Keck School of Medicine Department of Otolaryngology-Head and Neck Surgery under the chairman of the department, John Niparko MD. She gained additional subspecialty training in the areas of otology, laryngology, thyroid and parathyroid disease until 2018. Olivia has now returned to continue her career with Dr. Griffiths.
In her spare time, Olivia enjoys attending her children's multiple basketball, soccer, baseball, water polo games, and surf contests.
Olivia is an Otolaryngology (Ear, Nose & Throat) and Facial Plastic Surgery qualified provider offering the this vast expertise to our patients with the physicians.
Board Certifications
National Commission on Certification of Physician Assistants
Professional Certifications
California Academy of Physician Assistants
American Academy of Physician Assistants
Society of Physician Assistants in Otolaryngology, Head and Neck Surgery
Affiliations, Education & Research