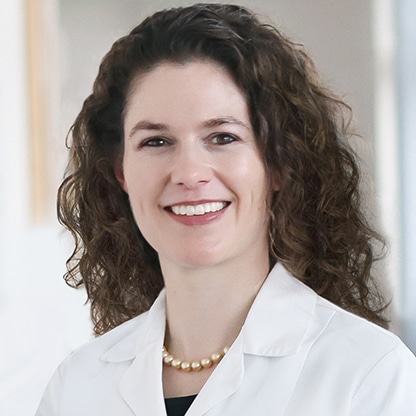 Head & Neck Surgery, Otology – Neurotology
Courtney Voelker, MD, PhD, is a Rhodes Scholar and board certified neurotologist. She is Director of Otology/Neurotology – Lateral Skull Base Surgery and the Director of the Cochlear Implant Program at Pacific Neuroscience Institute Medical Group (PNIMG). Dr. Voelker has conducted cutting-edge research on the physiology and diseases of the inner ear at Brown University, the University of Oxford, Washington University in St. Louis, and the National Institutes of Health (NIH). Dr. Voelker joins PNIMG from USC Caruso Department of Otolaryngology – Head and Neck Surgery, Keck School of Medicine of USC where she was Division Chief of Otology, Neurotology and Lateral Skull Base Surgery and the Director of the Pediatric Cochlear Implant program at Children's Hospital Los Angeles (CHLA).
Career Highlights
Dr. Voelker's clinical interests include chronic ear disease, otosclerosis, cochlear implantation (adult and pediatric), vestibular disorders, skull base tumors including acoustic neuromas, meningiomas, and glomus tumors. Her research interests include studying inner ear structure and function, and how that knowledge translates into treatments for patients with hearing and balance problems.
Dr. Voelker has authored numerous research publications and textbook chapters in her field. She is a member of the American Academy of Otolaryngology – Head and Neck Surgery and the American Neurotologic Society. Dr. Voelker is committed to offering high quality, compassionate care to patients in her clinic, while pursuing scientific advancements in the field.
Dr. Voelker graduated with Honors from Brown University and earned her medical degree from The Warren Alpert Medical School of Brown University. As a Rhodes Scholar she earned her PhD from the University of Oxford in developmental neurobiology. She completed her residency in Otolaryngology – Head and Neck Surgery at the Washington University (Barnes-Jewish Hospital) in St. Louis and her fellowship at the world-renowned House Ear Institute and Clinic.
Specialties
Otology
Chronic Ear Disorders
Chronic Ear Surgery
Chronic Otitis Media
Hearing Loss
Vestibular Disorders
Neurotology & Skull Base Surgery
Affiliations, Education & Research
In present times, people are living loud more than ever before! Adults and children are wearing their wireless headphones to stream music, podcasts, movies, and phone calls all day long. New parents are using noise machines at high levels to help their babies get to sleep. Concerts, sporting events, and even our car stereos are all giving us high doses of...
Imagine a world in which you can no longer hear someone say "I love you." You can't communicate with your family and friends on the phone anymore. You can't hear your child laugh. Those who suffer hearing loss can become isolated and removed from many aspects of everyday life that are taken for granted. Hearing impairment and deafness are serious disabilities that can...