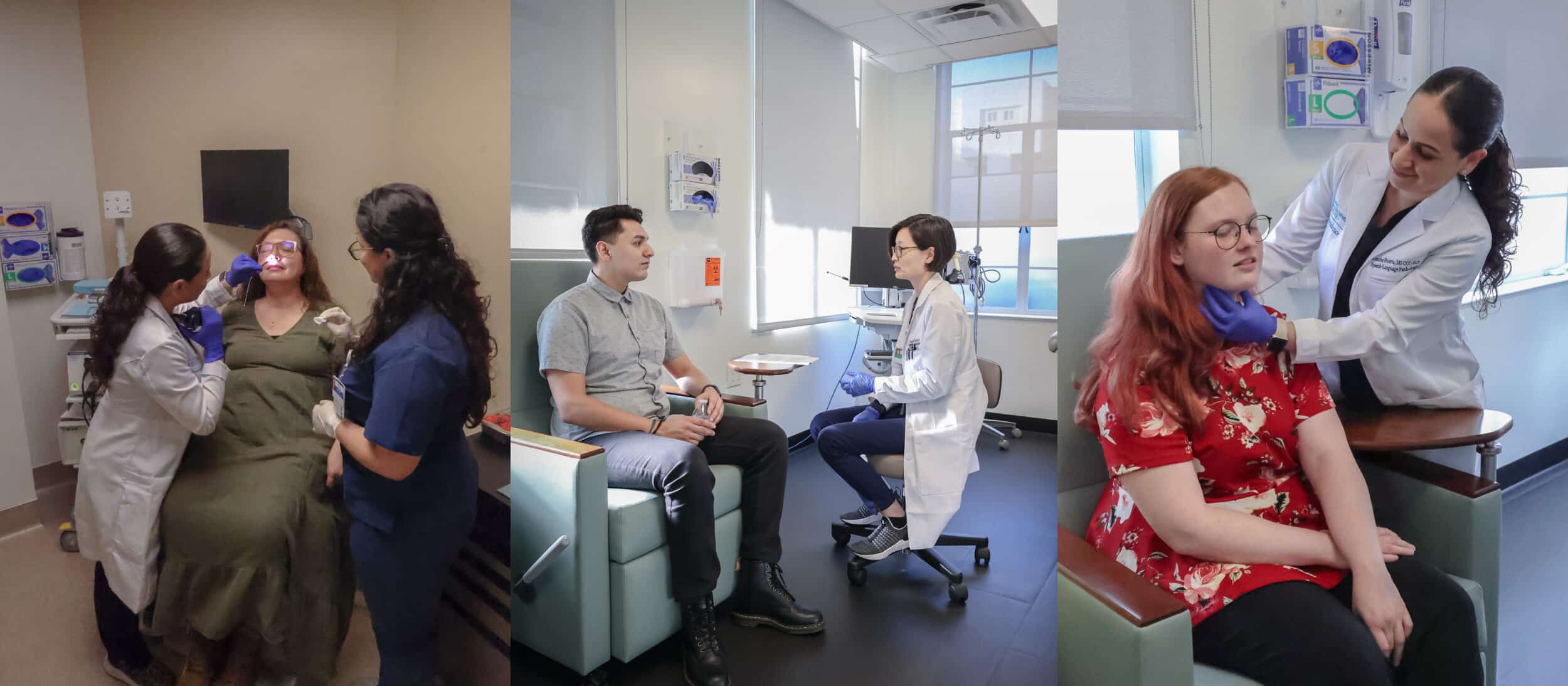 Speech-Language Pathology is a field dedicated to identifying, assessing, and treating disorders related to speech-language, swallow, voice, and cognition. Our skilled professionals provide personalized care and therapeutic interventions to help individuals improve their cognitive-communication skills, increase the safety and efficiency of their swallow function, and enhance their overall quality of life.
"Our mission is to enhance the lives of individuals with swallow, voice, and cognitive communication impairments by providing specialized and compassionate care, utilizing evidence-based practices and innovative therapies. We strive to optimize communication, swallow function, and overall well-being, empowering our patients to live fulfilling and meaningful lives."
Speech-Language Pathologists at PNI specialize in assessing and treating patients who present with swallow, voice, speech/language, and cognitive-communication impairments.
Diagnosis 
A diagnosis may include:
Case History: Medical status, education, socioeconomic, cultural, and linguistic backgrounds and information from teachers and other related service providers
Patient and family interview
Review of auditory, visual, motor, and cognitive status
Standardized and/or non-standardized measures of specific aspects of speech, spoken and non-spoken language, cognitive-communication, and swallowing function, including observations, and analysis of work samples
Identification of potential for effective intervention strategies and compensations
Selection of standardized measures for speech, language, cognitive-communication, and/or swallowing assessment with consideration for documented ecological validity, and cultural sensitivity
Follow-up services to monitor communication and swallowing status and ensure appropriate intervention and support for individuals with identified speech, language, cognitive-communication, and/or swallowing disorders
What type of patient populations do we serve?
Frequently Asked Questions
When a healthcare provider suspects the need for speech therapy they will recommend some initial screenings. The tests will help determine the underlying cause. For example, when a child has trouble communicating a healthcare provider will recommend additional testing for hearing and speech. 
Speech therapy depends on several factors, including age and the type of speech disorder. For children, it usually involves play (sequencing activities or language-based board games). For adults, it's focused on improving or rebuilding particular skill sets.
The speech-language pathologist will customize an appropriate treatment based on your unique situation.
Improves self-esteem

Increase independence

Improved ability to comprehend and express ideas, thoughts and feelings

School readiness for children

Enhanced vocal quality

Helps with language and social skills 

Better swallowing function
The worldwide prevalence of swallowing impairments in people with Parkinson's Disease ranges from 40-80%. Swallowing impairments can lead to dehydration, malnutrition, weight loss, depression, aspiration pneumonia, and respiratory compromise. Severe complications may result in death.
*Cosentino, G., Avenali, M., Schindler, A., Pizzorni, N., Montomoli, C., Abbruzzese, G., Antonini, A., Barbiera, F., Benazzo, M., Benarroch, E. E., Bertino, G., Cereda, E., Clavé, P., Cortelli, P., Eleopra, R., Ferrari, C., Hamdy, S., Huckabee, M., Lopiano, L., . . . Alfonsi, E. (2021). A multinational consensus on dysphagia in Parkinson's disease: screening, diagnosis and prognostic value. Journal of Neurology, 269(3), 1335–1352. https://doi.org/10.1007/s00415-021-10739-8
A medical SLP can help to offer strategies to increase the safety and efficiency of your swallowing. There are many ways an SLP can help:  
Identify compensatory strategies to reduce aspiration risk and/or risk of material building up and sticking in your throat.

Identify specific liquid consistencies or food textures to help reduce aspiration risk and/or risk of material building up and sticking in your throat.

Identify exercises to help build the muscles of your mouth and throat essential for swallowing. 
Call our office or contact our Administrative Coordinator, Correna Tate for instructions on how to place a SLP referral. She can be reached at: