Patient Testimonial: Brandon – Cochlear Implant
Brandon was the first patient to receive a cochlear implant at Saint John's Health Center. Brandon was diagnosed with otosclerosis in his late 20s. Otosclerosis is a condition in which there is an abnormal growth inside the ear. Otosclerosis is a hereditary disease that can be passed down to generations. In his late 30s, there was a stapedectomy performed on each ear. About a year later, another stapedectomy was performed. Then after, he was diagnosed with profound hearing loss on both ears. Brandon did go back to his hearing aid.  
When asked, what encouraged you to proceed with the cochlear implant? Brandon says,
"I knew my last chance was going to be a cochlear implant."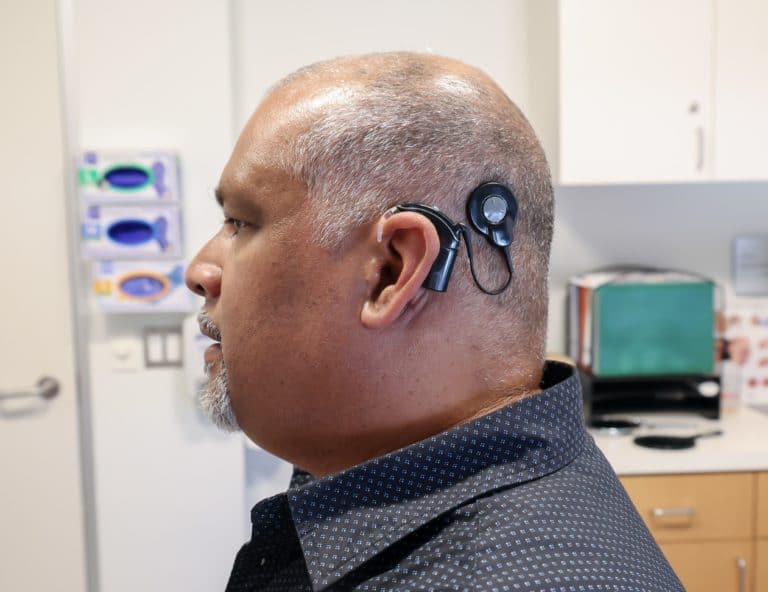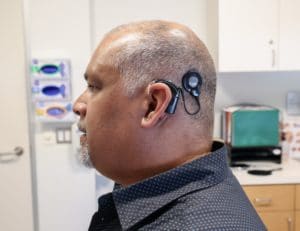 Brandon did undergo (2) cochlear implant surgeries. However, Dr. Voelker was the revision surgeon for the second cochlear implant surgery and was able to successfully restore Brandon's hearing. Brandon says,
"It was literally life changing… I could have not expected it to go this well. I feel like I'm getting the full benefit of the cochlear implant that I was originally expecting."  
Since the revision surgery, Brandon has been amazed with the progress in his hearing. He was worried he'd lose his hearing. Brandon says, "I don't know what I would have done." 
 A cochlear implant has many benefits such as improving hearing loss for patients of all ages and improve speech development. Pacific Neuroscience Institutes' Cochlear Implant Program launched January 2022. The Cochlear Implant Programs mission is,
"Our community-based cochlear implant program strives to advance our patients' quality of life, improve their ability to communicate with loved ones, and enhance their cognitive well-being. Our interdisciplinary cochlear implant team at PNI treats patients across the lifespan (from infancy to older adults) using evidenced-based practices, innovation, and a compassionate approach to care."
We're happy to have had Brandon be our very first cochlear implant patient at Pacific Neuroscience Institute.
When Brandon was asked how his experience was working with Dr. Voelker and our team, he said,
"I was a special case because it was a lot more difficult. But even before it was a special case, I was treated like I was a special person. That's one thing I will never forget."
—————————
Learn more about Brandon's story by listening to his Patient Testimonial.
At Pacific Head and Neck, we employ thorough evaluation and treatment regimes. To set up a consultation with a top Los Angeles ENT doctor, feel free to call us at (310) 477-5558.