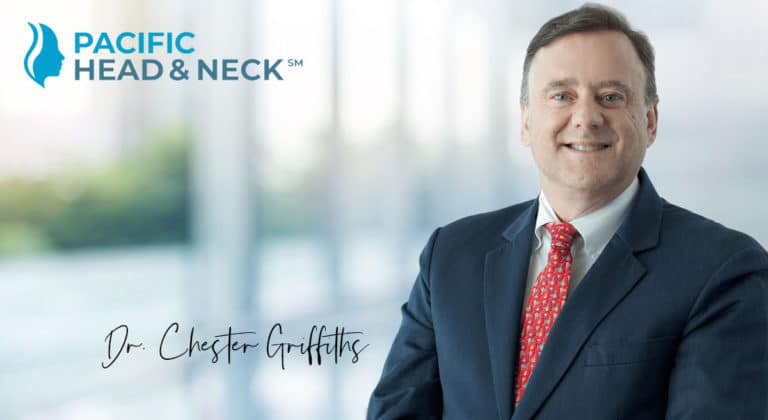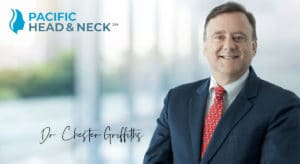 By: Chester Griffiths
At Pacific Head and Neck, we are looking forward to the post-pandemic in-person landscape to offer innovative solutions for providers and their patients. Ear, Nose, and Throat (ENT), Otolaryngology, Head and Neck Surgery is a unique surgical subspecialty encompassing the diseases in children, adolescents, adults, and senior citizens. We offer office-based medical treatments or surgical treatments. As a result of the pandemic, we have utilized remote Telemedicine Care for our patient interactions but have all missed the personal touch of being together. The future brings a melding of both tools to achieve access and ease of care.
Pacific Head and Neck: Center of Excellence of the Pacific Neuroscience
Pacific Head and Neck along with the multispecialty providers of Pacific Neuroscience Institute (PNI) has a simple mission: to offer access in our local communities to basic and super specialty care in the Ear, Nose, Throat – Head and Neck Region. In pursuit of that goal, Pacific Head and Neck faculty have advanced fellowship specialty training in:
Brain Surgery through the Nose (Endonasal, Endoscopic Skull Base Surgery)
Acoustic Neuroma Surgery (Lateral Skull Base Surgery)
These unique procedures have historically only been accessible through University Hospitals. By recruiting and supporting an outstanding faculty, these procedures are available in your local hospital and ENT clinic. We support other ENT physicians as well in the care of their patients locally. Our home base, Saint John's Health Center was ranked in the top 50 hospitals in neurology and neurosurgery programs in the United States by US News & World Report. PHN/PNI received the prestigious North American Skull Base Society Multidisciplinary Team of Distinction designation, and PNI stroke experts and our partner hospitals earned the Get With The Guidelines® – Stroke Gold Plus Quality Achievement Award and Target: Stroke Elite Plus Honor Roll.
A strong foundation with Providence Health Care and the PNI Foundation with Saint Johns Foundation
We are excited to begin 2022 with an expanded PNI Foundation board of directors and advisors. PNIF continues to be home to the clinical trials, research, patient education, community outreach, and administration teams, working in partnership with Saint John's Health Center Foundation to support PNI's mission. PNIF is also a sponsor for pituitary disorders, multiple sclerosis, and acoustic neuroma patient support organizations.
With gratitude
Philanthropy enables us to develop research and clinical programs leading to expanded access to high-quality innovative care to prevent, diagnose and treat disorders of the brain and nervous system. Our donor community continues to grow and be a cornerstone in PNI and PHN's ongoing ability to make a difference for patients and their families.
We Thank You for your trust and support.
Sincerely,
Chester F. Griffiths MD, FACS Founder ENT, Facial Plastic Surgery, Skull Base Surgeon
Abbas Anwar MD ENT, Skull Base Surgeon
David Butler MD ENT, Facial Plastic Surgeon
Amit Kochhar MD ENT, Microvascular Reconstruction, Facial Paralysis Restoration Surgeon
Omid Mehdizadeh MD ENT, Voice and Swallowing Disorders
Courtney Voelker MD ENT, Neurotology, Acoustic Neuroma & Cochlear Implant Surgeon
Evan Walgama MD ENT, Head, Neck and Thyroid Oncology, Skull Base Surgeon
—————————