Facial Nerve Disorders
A 73-year-old woman suffered with left sided facial paralysis for one-year that began immediately following the removal of a large acoustic neuroma. In addition to her facial droop, she also complained of blurred vision, left nasal obstruction, and had difficulty eating and drinking. The patient also felt her speech was difficult for others to comprehend.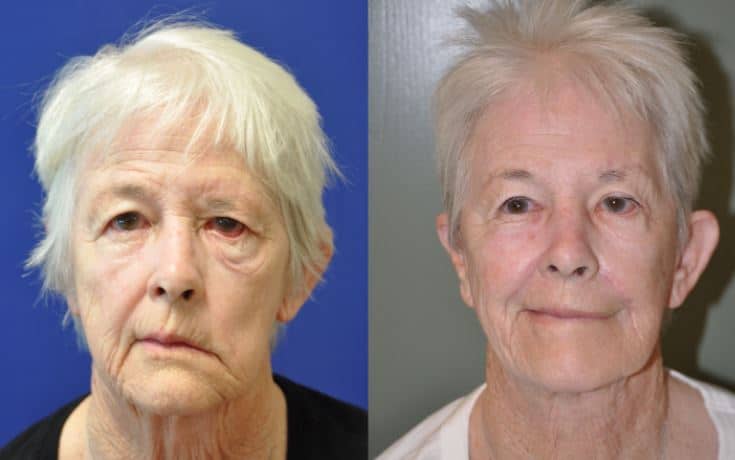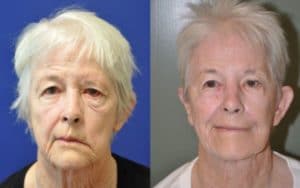 (This photo demonstrates a Before (Left Photo) and After (Right Photo) following the Temporalis Tendon Transfer during a 6-month period.) 
Examination from the Physician
Complete left sided facial paralysis
Left eyebrow ptosis with visual field deficit
Incomplete left upper eyelid closure
Severe left lower eyelid ectropion
Left midface ptosis with left internal nasal valve collapse
Treatment
Upper Face: Left Direct Brow Lift, Blepharoplasty, Upper Eyelid Platinum Weight Placement, Lower Eyelid Tarsal Strip
Midface/Lower Face: Temporalis Tendon Transfer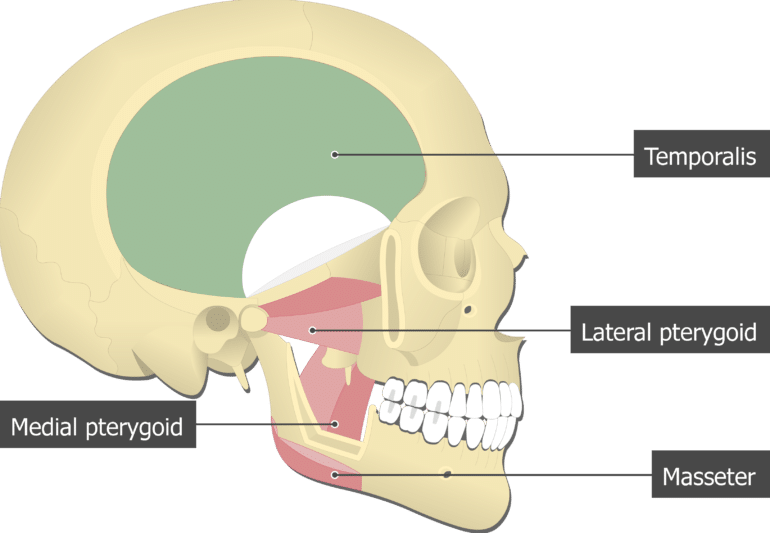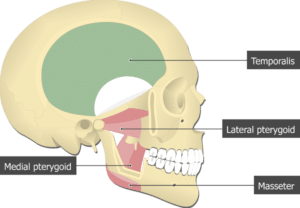 What is a Temporalis Tendon Transfer? 
Temporalis tendon transfer is a relatively minimally invasive technique for the dynamic reanimation of the paralyzed face. This technique can produce significant and appropriate movement of the lateral oral commissure, more closely mimicking the normal side. 
The temporalis muscle is on the side of the head, and is one of four major muscles used for chewing. It is attached to the jaw bone, and helps close the jaw when chewing. The muscle, and its bony attachment, can be cut through a skin incision that is placed in a natural skin crease between the lip and cheek. The tendon and bone are then attached to the muscles at the corner of the mouth which is pulled upwards in a more symmetric position.  
This procedure provides in improvement symmetry at rest, and often improves speech and eating.  
Learn more about other Head and Neck procedures at Pacific Head and Neck.