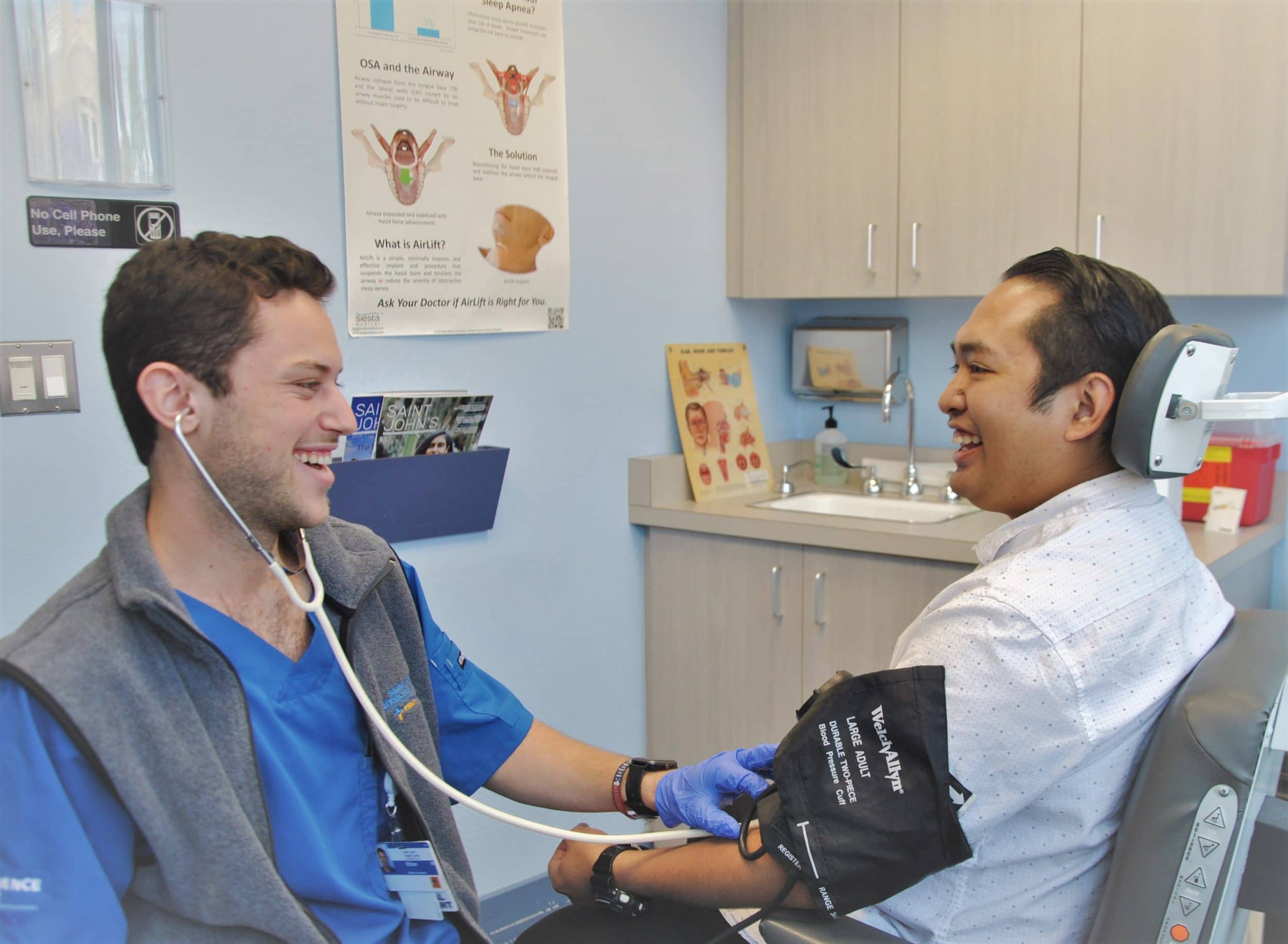 11/22 – Dr. Griffiths always does a fabulous job. He is all miles which makes me smile , no matter what procedure done.. I would highly recommend his services!!!!!!!!
- Miki M.
---
6/21/22 – My experiences at PNI include: 1) At m first visit at PNI Dr. Kochhar introduced me to Dr. Griffiths and I was stunned that he took the time to get to know a new patient of a new physician on staff. I had read up on PNI before my visit and I was so impressed when reading about the level of experience of the group of super specialists. 2) I considered plastic surgery with Dr. Karimi and Kochhar, and on an independent referral from my eye doctor a year ago I saw Dr. Howard Krauss for an eye issue. I got a thorough neuro workup and thankfully my issue wasn't serious.  All the staffing (and there is a lot of support staff) are very competent and kind and the doctors are warm and down to earth.  I would recommend PNI to others because of my experiences and the depth of specialists. Before my first experience, I had never heard of PNI.
- Catherine G.
---
1/8/2021 – What an amazing doctor. Kind, thorough and explain very well both diagnoses and what medication he's prescribing, and why.
Staff and nurses were kind and helpful as well. Very happy with my visit.
- Juli J.
---
7/30/2021 –
I have been having ear aches for the last year or so.  
After seeing Dr. Miller, my problems are gone.    He is a true professional in his field
and a cool guy also!  Dr. Miller is the type of guy you could invite to a family BBQ and he would fit right in!   lol
9/11/2014 – Another great visit to Dr. Miller!  He is the best ENT in the business.  If you want the best health care, you need to visit the best doctors.   Dr. Miller is it.
- Mason C.
---
1/31/2016 –
Looking for one of the best doctor's around to fix my severely deviated septum, remove my tonsils, and help make my nose look more natural – Dr. Butler delivered on all accounts, in the greatest way possible. He ran every test possible to determine the needs of my case, weighed all options, and communicated the process clearly to me. While working with me every step of the way, the surgery went seamlessly. Recovery went great, and Dr. Butler was available at all times post-surgery. I healed fast and my results outperformed my wildest expectations.
Great doctor who truly cares about his patients. 5 stars.
- Kennedy P.
---
6/13/2019 –
Dr David Butler is a fantastic doctor.
He removed a Lipoma from over my eyebrow . He was meticulous and precise. There was very little pain and a fantastic result. He is very personable and  a perfectionist. Lucky me to have met this doctor. He was recommended by other highly acclaimed  doctors. He is very kind and takes the time to explain the procedure he will use. I can't say enough great things about Dr. Butler and his office.
He is just the best doctor and patient could have.
- Judy D.
---
3/12/2021 –
I was referred to Dr. Kochhar by the best brain surgeon IMHO  Dr Garni Barkhoudarian.  I've developed Bell's Palsy and needed care.  Dr Barkhoudarian  is always there for his patients. Dr Kochhar is very well qualified and was able to see me right away.
Great experience, orders rest was clear in my diagnosis and prognosis. I highly recommend Dr Kochhar.
- Bonnie G.
---
7/1/2021 –
I came to Dr. Kochhar a couple of months after I had an emergency surgery to save my life, it left me with facial palsy on one side. It was and still is a mystery if my face will ever fully recover. Dr. Kochhar expertly lifted my eyebrow just enough to match the other one so that no one can tell that it drooped on that side. He connected me with his colleague who is a Neuro Eye Surgeon who magically fixed the eye that would not close, so now it looks perfectly normal and I can close it without having to use a weight of any kind. He was able to create facial symmetry for me using botox and filler.
Dr. Kochhar is a Very Talented Thoughtful and Kind Doctor
– I feel that he gives me 100% of his attention during my office visits – I will be forever grateful to him for helping me to feel and look better and for being there for me while I am navigating my recovery.
- Joni M.
---
8/22/2017 –
Dr. Anwar is skilled and dedicated at his trade
. He is thorough and compassionate and I felt so comfortable having him look at my sinus issues. He's a great listener and takes the time to explain everything in terms I understand. Most of all I appreciate that he did not push procedures or medications on me! I feel like he genuinely cared about my well being and I trust his opinion as he's extremely knowledgeable.
- Roya K.
---
10/1/17 – Dr. Anwar
just met one of my little patients, Dad and me at 9:00 PM on a Sunday night at his office to remove a bean from the little guy's nostril.  It was lodged out of my reach and ERs are not the best venue for bean removal. It went well quickly and we were all out of there in 20 minutes
Dr. Anwar is great.
 I won't forget his kindness and skill.
(The little boy might not appreciate the care as much as his parents and I do)
- Jay G.
---
4/28/20 – Dr. Kelly and Dr. Griffiths receive my highest possible recommendation.
They removed a tumor on top of my pituitary gland that was resting against my optical nerve. They flawlessly removed the entire tumor utilizing a minimally invasive technique. 5 out of 5 stars!
- The Scully Family
---
9/24/20 – Amazing doctor!
Dr. Griffiths was only specialist who could help my husband. Highest expert in his field, you can trust him completely.
- Doctor Adams, Los Angeles
---
6/28/20 – Dr. Chester Griffiths and his team was Amazing!
This is the year of Covid and the only good thing about this year so far is Dr. Griffiths and His Team!! They were able to removed my husband's tumor with no complications! We are very blessed to have met Dr. Griffiths and his team, they are Rock Stars of this type of surgery. I only spent 1 night in the hospital. I recovered at home! All is Good!! God bless all of you that helped us
- R. Chien, ENT Patient
---
10/4/18 –
I just got back from my appointment with Doctor Mehdizadeh and I have to say he and his staff are awesome.
Everyone from the front desk, to the medical assistants and staff were all so friendly and thoughtful. They really do deserve the reputation they've earned from others.
I went in for a nasal issue I've been dealing with for months now and but the medical assistant and the Doctor were careful to diagnose my issue and take a good look at everything. I felt like I was in very good hands there. They left me feeling confident.
The place feels inviting too. It's not cold and sterile like a lot of hospitals can feel like. Nor was it run down and old like others can feel. It feels modern but warm. A tradition I've found with providence hospitals. Not sure how long they've been joined with them but it makes sense.
Overall, please go to them. Give them your business and love.
- Sonny B., Nasal Patient
---
9/29/20 – Dr. Griffiths has been absolutely fantastic.
I flew in from Las Vegas, Nevada for my procedure and from start to finish he is definitely an expert and legend in his field. I credit Dr. Griffiths for giving me the gift of sight and I'm in better health now than I have been over the last 15 years and it's all due to Dr. Griffiths and his expert team!
- Vincent I., Las Vegas
---