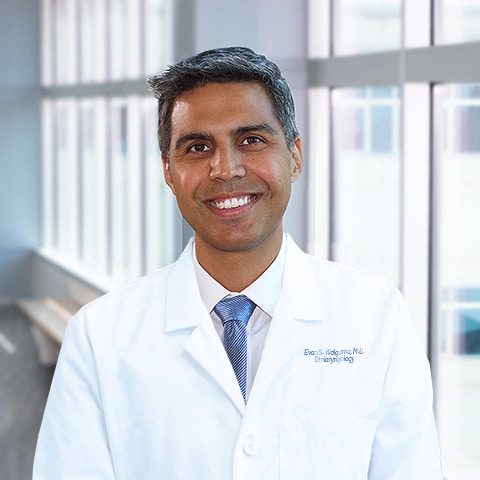 Otolaryngologist – Head & Neck Surgery
Evan Walgama, MD is a board-certified Otolaryngologist. His particular area of expertise is benign and malignant tumors of the head and neck. Dr. Walgama is a dual-fellowship trained surgeon. He completed Sinus and Skull Base fellowship at Stanford, followed by a Head and Neck Surgical Oncology fellowship at MD Anderson. He brings together both knowledge and skill sets to treat challenging cancers of the ear, nose and throat. His priority is preservation of quality of life for patients and their families. Dr. Walgama leads a multidisciplinary team to address benign and malignant tumors of the head and neck, including thyroid, oral cavity, HPV-related, throat, and sinus/skull base. He is a champion of patient-centered decision making and multidisciplinary care. He is a member of Saint John's Cancer Institute bridging research and academic interests to clinical outcomes in head and neck oncology.
Specialties
Head & neck cancer
Thyroid / parathyroid
Transoral robotic surgery
Advanced sinus & endoscopic skull base
Conditions
Parotid tumor
Salivary cancer
Adenoid cystic carcinoma
Acinic cell carcinoma
Pleomorphic adenoma
Perineural tumor spread
Oral cavity cancer (squamous cell carcinoma)
Tonsil cancer (HPV related)
Base of tongue squamous cell carcinoma
Transoral robotic surgery
Larynx cancer
Sinus cancer
Transoral laser surgery
Tongue cancer
Buccal carcinoma
Mucosal melanoma
Oral leukoplakia
Severe dysplasia oral cavity
Olfactory neuroblastoma
Head and neck cancer
Head and neck sarcoma
Medullary thyroid carcinoma
Anaplastic thyroid carcinoma
Papillary thyroid carcinoma
Affiliations, Education & Research
Super Doctor Awards recognize healthcare providers for outstanding excellence in their area of focus. These awards are the highest-ranking doctor awards in the nation. Less than 5% of doctors in a state or region make the list annually. The evaluation involves an extensive review of a physician's years of experience, fellowships, board certifications, publications...
According to the American Thyroid Association, approximately 20 million Americans have some form of thyroid cancer. As January is Thyroid Awareness Month, it is important to discuss...